Wannemacher Jensen Architects has merged with Hoffman Architects, a move that brings together two of the Tampa Bay area's premier design architecture firms.
Hoffman Architects is now a subsidiary of Wannemacher Jensen (WJA), which gives WJA a north Pinellas County presence. It also grows WJA's capabilities in working with public schools. 
Hoffman Architects brings long-standing relationships and experience working with public school systems and other clients throughout Pasco, Hernando, Manatee and Pinellas counties. WJA, in turn, brings significant manpower, technology, and experience across a diverse mix of project types throughout Florida. 
WJA, based in St. Petersburg with an office in Miami, has annual revenues of $4.5 million and 21 professionals, focusing on everything from office buildings, museums and schools to restaurants, mixed-use complexes and entertainment facilities.
Hoffman Architects, based in Tarpon Springs, has annual revenues of $2.1 million and six professionals, with an emphasis on designing educational, religious and public facilities.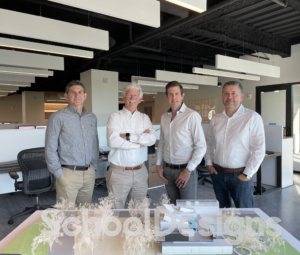 Edward Hoffman will remain a principal of Hoffman Architects and Todd Willsie is now the Studio Director for the Tarpon Springs office. 
"We have always greatly admired the work of Hoffman Architects, and in particular their work in the education field," said Jason Jensen, principal at WJA. "Combining our firms gives us a major platform to continue to grow our statewide footprint
Edward Hoffman added: "The timing of our merger couldn't be better, with numerous new projects around the state for us to pursue. Our combination of skills and experience makes us uniquely suited to help a wide range of clients, and we will be particularly focused on our growth in the education industry over the next several years."