The architecture and design firms Perkins Eastman and BLT Architects (BLTa) have announced that they have merged.
Perkins Eastman, which has 1,100+ employees in 24 studios worldwide, has worked on projects on five continents in 60 countries. Its projects include healthcare, senior living, large-scale mixed use, higher education, K-12, hospitality, and workplace design.
BLTa, now known as "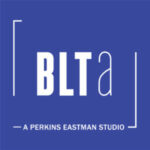 BLTa—A Perkins Eastman Studio," is an integrated architecture and interior design firm of 41 professionals with deep roots in Philadelphia. In merging with BLTa, Perkins Eastman enhances its expertise in mixed-use, multi-family residential, hospitality, workplace, higher education, historic renovations, adaptive reuse conversions, resorts and gaming, and transit-based projects.
"We are very pleased that BLTa has joined us and we now have a strong partner in Philadelphia," says Brad Perkins, FAIA, chairman and co-founder of Perkins Eastman.
Michael L. Prifti, FAIA, managing principal of BLTa, says the merger "will give us the opportunity to serve our national clients in jurisdictions where we don't currently practice. Perkins Eastman has new markets we've never touched. And with more feet on the ground, we can more easily and geographically serve our clients."
Shawn Basler, co-CEO and executive director of Perkins Eastman, says that combining Perkins Eastman's 40 years of global experience with BLTa's 60 years of local expertise and relationships creates a powerful combination. "They'll be able to draw on our well-established market credibility and resources, as well as geographic reach, while we'll be able to tap into their deep knowledge of the Philadelphia metropolitan region along with their considerable expertise," he says.