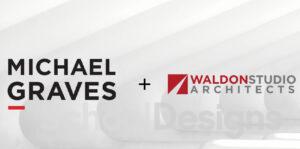 Michael Graves Architecture, a planning, architecture, and interior design firm based in Princeton, N.J., has acquired Waldon Studio Architects, a Maryland-based planning, architecture, and interior design firm. The acquisition will combine the distinct strengths of the two firms to cultivate shared expertise.
"When approaching this acquisition, we set out looking for a company with a deeply rooted set of core values that we share, and we knew right away we had found this in Waldon Studio Architects," said Joe Furey, President and CEO of Michael Graves.
Michael Graves says the acquisition will enable the firm to strengthen its expertise in the health care, education, and worship sectors. Combining the firms also enhances their commitment to sustainable design and historic preservation.
Under the new company structure, Waldon Studio Founder and Principal Ravi Waldon will serve as Principal as well as head of the firm's faith-based sector. Joe Furey will oversee the ongoing integration and the firm's future acquisitions.
Recent Michael Graves projects include The St. Regis Hotel in Cairo, Egypt, and The Loutrel Hotel in Charleston, S.C.
Recent Waldon Studio projects include the Center for Health Care and Healthy Living at the Hebrew Orphan Asylum in Baltimore, Md., and education designs for 10 school districts.