SmithGroup has hired Richey Madison as a principal and higher education studio leader at the firm's Los Angeles and San Diego offices.
With more than 25 years of design experience, Madison comes to SmithGroup from the Irvine, Calif., office of Stantec, where he served as a regional leader for the higher education and science & technology markets.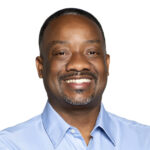 He served as principal-in-charge for the recently completed Phase 1 of the Green at West Village Student Housing project at the University of California, Davis. The 1.3 million-square-foot project is one of the largest public-private partnership (P3) student life projects completed in the United States.
"The Covid-19 pandemic has forced higher education leaders to respond to significant changes over the last year, says Chris Purdy, director of SmithGroup's Higher Education Practice. "Richey brings a comprehensive understanding of both campus planning and higher education design that help his campus partners make strategic decisions and find solutions that will enable their campuses thrive in this new era."
Madison will guide teams in the Los Angeles and San Diego offices, and collaborate with colleagues from across SmithGroup's national Higher Education Practice. SmithGroup's higher education clients in Southern California include the Claremont Colleges, Caltech, University of California, Irvine, University of Southern California, and San Diego State University.
Madison graduated with Bachelor of Architecture degree from Iowa State University in Ames, Iowa. He is a licensed architect and a member of the National Organization of Minority Architects and the American Institute of Architects.